Whether you're a professional maker or an at-home hobbyist, laser cutting is a wonderful option for crafting unique creations.
The applications for laser cutting are endless. Think signage, jewellery, trophies, tools, homewares, and furnishings. It can also be used with a wide variety of materials such as glass, plastic, paper and cardboard, timber, metal, and steel.
At Vital Line in Perth we're always on the look-out for fresh ways to use laser cutting. After searching Etsy, Pinterest, Instagram feeds, local manufacturers, and our go-to design blogs, we've compiled some of our favourite finds to get you inspired for your next project.
Laser Cut Jewellery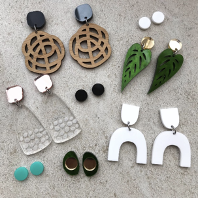 Many jewellery pieces are made possible by laser cutting elaborate designs into lightweight materials.
The funky shapes and cut-out details in these gorgeous earrings, from Mikmat Designs in Port Macquarie, have been produced by laser cutting wood and acrylic. The etchings on the clear acrylic earrings are also a great example of laser engraving.
With our laser cutting machines we can use pulsing to create holes and small details, to realise even the most complex designs.
Laser Cut Wedding Invites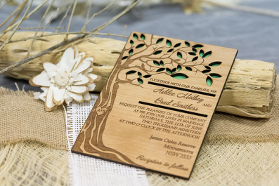 This beautifully crafted wooden wedding invite from Etsy seller AmazingWoodCraft, is truly original, and just one example of how laser cutting can be used in wood working.
Laser cutting has been carefully applied to create the leaves of the tree and block lines, and the text has been "penned" with laser engraving.
Professional laser cutting machines have tolerances as fine as 0.1mm, making tiny shapes a breeze to achieve.
Laser Cut Screen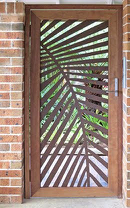 Laser cut screens can be used around the home and garden to turn practical elements like doors, stair railings, room dividers, gates, and fencing into decorative features.
This elegant palm frond screen door, designed by Urban Design Systems, is made by laser cutting steel.
Our high-powered laser machines can cut through both carbon and galvanised steel, achieving clean and sealed edges.
Laser Cut Signs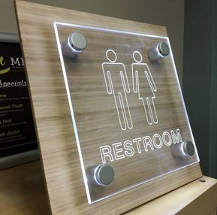 Signage is a fantastic application for laser cutting. It often requires crisp lines to be cut with precision, so it's not a surprise we've worked with many sign-writers for laser cutting in Perth.
This slick and modern restroom sign employs laser cut acrylic set against a bamboo backdrop, with LED-lights along the edges to make it pop.
We've created signage in a wide variety of materials including acrylic, carbon and stainless steel, metal and wood.
Laser Cut Home Décor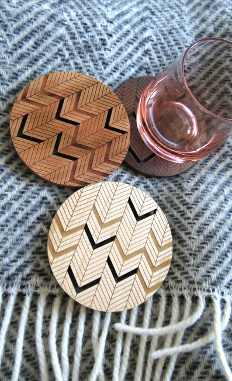 Here's another example of intricate wood working.
The perfect circles of these coasters, crafted by Etsy seller GrainDeep, have been expertly sliced from wood with laser cutting. The stylish herringbone pattern has been created with laser engraving.
Laser cutting and engraving can produce impossibly precise patterns and impeccable lines.
Excited to start your next project?
At Vital Line we've been providing laser cutting in Perth for more than 20 years and have the technology and skills to produce a wide range of products for professionals and hobbyists alike.
We'd love to hear about your project. Send us an email or call us directly on (08) 9271 7981.